The Top 7 Brands Killing it on Social Media in 2020 (& How to Achieve Their Level of Awesome)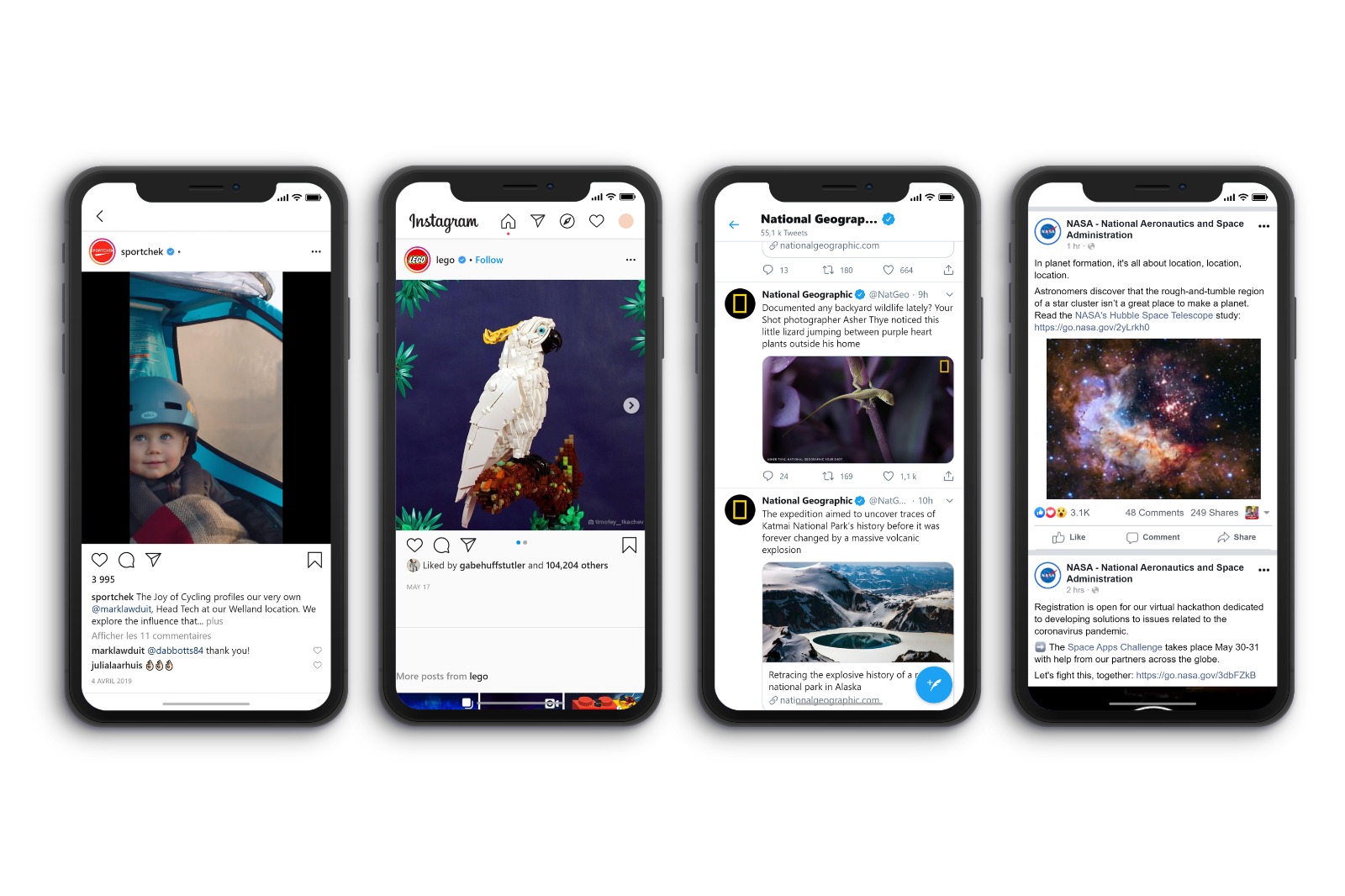 As the saying goes, if you want to be great, you have to study the greatest.
Okay… No one said that, but I'm saying it. When it comes to social media, it's doubly true.
There are billions of brands that are "just getting by" on social media, and then there are the select few that you just can't ignore. When you see those stand-out brands with the biggest and most connected audiences on social media, you probably ask, "How did they do that? And how can I replicate those results for my brand?"
If you're looking for the answers to those questions, pay close attention. It's not about resources. Actually… it is. But that doesn't necessarily mean thousands of dollars. It's about effort, creativity, hard work, and having the right people on your team. And finally, it's about focusing on the right strategies.
You don't necessarily want to mimic another brand exactly; all brands need a unique strategy because no two brands are the same. However, there are a few elements of success that you can borrow from the great players on social media and make your own. As you scroll through these top ten brands on social media, you'll notice there's a unique recipe they all follow in their social media marketing. Everything they post is:
On-Brand
The brands that are rocking social media know that every post is part of the brand story. It has to hit viewers in exactly the right spot by being authentic. Is the brand witty? Sarcastic? Inquisitive? Pioneering? You should be able to tell from a few social posts!
Creative & Relevant
Your products might stay the same, but your social can't. It's the same reason parents rotate toys in and out for their kids; old toys can still be fun, but only if you make them seem brand new all over again by getting creative.
High-Quality & Meaningful
Intention and action count on social media. It's easy to tell when someone spent real time and effort on making a post that would actually be meaningful in your feed. Posts that capture attention require attention, so take note and get to work!
Interactive
So many brands skip the "social" part of social media. Interactive posts generate engagement and responses. They make people want to think and act right now (and no, not necessarily to hit that "buy now" button).
Now, let's look at how these qualities actually shine through in their social media marketing strategies. There are plenty of great brands to watch on social media in the coming months, but these are the top 7 brands on social media in 2020:
1. Lego
Creativity is to LEGO what water is to fish; they are creators through and through, right down to their social posts. And that's exactly why they're so fascinating on social media. They're on the same level as their customers, getting right in there and building new designs.
As you scroll through their posts, you'll see that every post has a story behind it. Just like their LEGO sets, each post is geared toward people who are passionate about something: a story, an activity, a holiday, a place… pretty much anything. They tell stories through their written content, photos and graphics, and videos.
They also get interactive by encouraging LEGO fans to share their build photos in the comments with the #LetsBuildTogether hashtag. Who doesn't want to share their most ingenious designs with fellow LEGO fanatics?
2. NASA
Few brands have accomplished what NASA has accomplished, both in space and on social media. They've developed tons of interactive content that pulls curious minds in. They keep people updated with new missions and technology, but they also have a lot of fun with nerdy posts, funny astronaut memes, and at-home experiments.
They also get interactive with other organizations and brands, bringing in relevant articles, news stories, and videos from other sources. But that doesn't mean they're lazy with their own content. You can tell that everything they do has social media worked in. They're asking, "How can we capture this with engaging content? How can we get people involved?"
3. National Geographic
It's not surprising that National Geographic's social media content is as polished and eye-catching as their magazines (we'd expect nothing less!) Their photos instantly grab you and bring you into a story, and those stories are always relevant and meaningful. If you want to stay up to date on news that impacts us on a global scale, this is the page to follow – and people know it because they're consistent (and always have been).
An interesting aspect of National Geographic's social media is that they create content that gets a lot of engagement (often very opinionated engagement), but they don't engage in return with their followers. Instead, they let their followers lead the conversation in the comments.
4. SportChek
SportChek's social media presence focuses on what every sports lover is most passionate about: teamwork, health, achievement, and perseverance.
On Instagram, they keep their written content simple and straight to the point, showcasing their brand story through photos. The vast majority of their content is focused outward, with smoothie recipes, workout routines, team photos, and action shots. Here and there, they'll slide in some product photos, but always with some kind of context or creativity.
If there's one thing to take from SportChek's social media marketing strategy, it's the sense of community and camaraderie. A lot of the content they share is built around teams, athletes, or even other brands. In doing that, they lend their brand credibility to others and gain it back in return.
5. Wendy's
Their Twitter bio is the perfect example of what you can expect from Wendy's: "We like our tweets the same way we like to make our hamburgers: better than anyone expects from a fast food joint."
They're extremely responsive, and they're even known as conversation starters, asking people relevant questions in "radio show host" style.
Finally, they're always on point and on-brand. Whether they're posting or responding, they always use their signature witty, trouble-making tone. They love to poke at other brands and are basically like your hilarious but belligerent uncle at family dinners.
6. NBA
The NBA is pioneering social media strategy on different platforms. Their TikTok game is next-level, taking their usual highlights and games-focused content and turning it into lighthearted videos about players, teams, and mascots. With everyone locked down to prevent the spread of COVID-19, they've turned their TikTok channel into a platform for silly antics from players.
Context on social platforms is something Nike does well. Their Instagram is focused on people and players, their Facebook is centred around events and replays, and their Twitter is filled with updates, news flashes, and live interactions like Q&A's.
7. Gillette
Gillette has "relevant" down pat on their social media platforms. They're not social activists by any means, and yet they have social issues dialed down into their content, including their "the next generation of men is watching" campaign.
During the COVID-19 pandemic, they're manufacturing face shields and donating money and supplies to the cause.
If you're wondering how to use content across platforms without losing the platform's context, Gillette is a great example. They take a single content idea and alter it based on the audience they're catering to.
Get More Social Media Tips & Tricks for Your Brand
Head to www.jaredvandermeer.com to grab more social media tips for brands and businesses, plus freebies like social media content planner templates. You can also follow me on YouTube to get a weekly dose of marketing ideas.